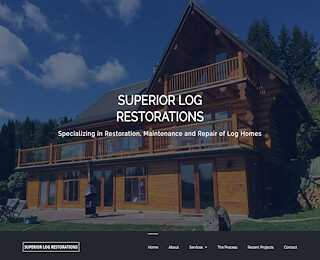 Log homes are among the most beautiful of all types of houses. They have a nice, rustic look, but they still require regular care and maintenance. The type of care they require is different than that of traditional homes. Since logs are natural products they often crack or shift slightly over time. These cracks can be repaired and if necessary you can have an entire log home restoration in BC.
Tips for Log Home Restoration in BC
First and foremost, log home restoration in BC is best left to professionals. Experts with years of experience will be able to restore your log home to its original beauty. There are some things you can do to make the process easier.
Gather as much information as you can about the home. For instance, records of the original builder's name, the type of logs that were used and the finish that was applied will all be useful pieces of information for log home restoration in BC.
Sometimes this information is not available, especially if you just purchased the home or if the home has gone through several owners over the years. An experienced log home restoration company will typically be able to determine the type of logs that were used in the original structure.
Make note of any improvements or repairs that you completed or know about the home. You will also need to point out any areas that are in need of repairs. If there is any structural damage it is important to let the repair company know about it so they can include this in their estimate.
High Quality Log Home Repairs
Your log home can be repaired or restored, regardless of how many repairs are needed. An experienced log home restoration specialist will meet with you to discuss your requirements. An assessment or evaluation will be done to determine exactly what repairs are needed.
Determine your budget so that you can prioritize repairs. You can get the most critical repairs completed first so that the home is structurally sound. Then, a complete restoration can be done.
Most restorations are needed because repairs and maintenance were not completed in a timely manner. If you take proper care of your log home it will last for many generations and will be a beautiful and sound structure for you and your family.
Many times, old log homes were abandoned by their owners and are sold later. As a new owner, you may not realize that the log home can be restored rather than having to be torn down. In most cases, restoration will be much more economical than building a new home. Our team has many years of experience building, repairing and restoring log homes in the area.
We have the skills needed to undertake any log home repair or restoration project no matter how large. We use quality materials and workmanship to improve your home and make it look like it did when it was new. Contact us today for a free quote.